Where the ocean is your porch
Just steps away from Hampton Beach we are an Ocean Front Short-Term rental property for families and couples of all ages. We have 11 units with a wonderful, New England beachy feel to them offering 1, 2, and 3-bedroom options.
Booking direct with us helps you eliminate all the fees and get a better rate than online booking sites!
A Hampton Beach Vacation Home.
Welcome to "The Americana", a perennial favorite oceanfront vacation property in the heart of Hampton Beach, one of the cleanest and safest beaches in the US. With 11 units sleeping 2-8 people, The Americana is perfectly located at the beginning of the Hampton Beach strip. Here you will be sandwiched between the refreshing Atlantic surf and row after row of amusements, boating adventures, shops, restaurants, the Seashell Stage, Casino Ballroom, summer weekly fireworks displays, movies on the beach, and more!
The property is perfect for a family vacation in the summer, a work retreat, a temporary home replacement, or a work-from-home alternative in the Fall, Winter, or Spring. All units come fully furnished, clean linens and bath towels are provided, and kitchens are fully stocked. Book your stay today!
Welcome to The americana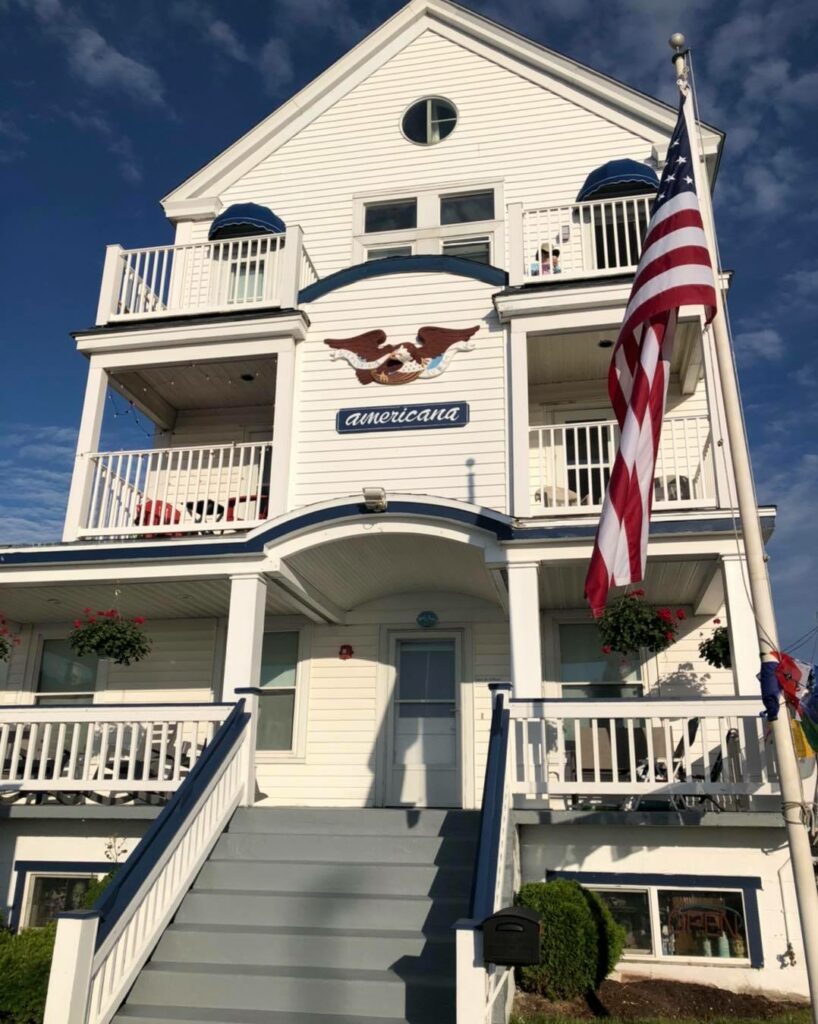 Featured Listings
🦅 top floor, Water views 🦅
🦅 Ocean Views – Private Balcony 🦅
🦅 Water Views – Private Balcony 🦅
From $130
This 1 bedroom, 1 bath apartment is one of 11 units on property, and is located on the second level (accessible by stairs only) of the "main building" with great views of the ocean.
There is deeded off-street parking for 1 car. The Americana is perfectly located at the beginning of "the strip". You're just steps away from the beach, arcades, mini-golf and much
1 Bedrooms, 1 Bath
Client Testimonials
This Place is the Absolute Best!
"We've been staying here for 6 years now! we've stayed at many places at Hampton, but we landed here… this place is the absolute best!! Love the location, a short walk to everything you want..best view too. Very clean and well cared for by great owners."

– Ann Theriaque, Facebook Review
Great Stay!
"Great stay! The unit was clean, stocked and comfortable which was much appreciated in the 90 degree heat. The new furniture was an added bonus. What made this stay exceptional is the location…just steps from the beach, ice cream parlor, mini golf and a strip of great restaurants and shops. Perfect for a trip with kids or an adult getaway. We plan to visit again in the fall! Thanks for a great stay!."

– Kristen Bannon, Google Review
Great Place to Stay!
"Just got back from our trip to Hampton Beach. The Americana was a great place to stay! It was super clean, nicely furnished and it's been so hot it was nice to stay somewhere that had air conditioning. The location was right across from the beach. It was so convenient to park the car and not need it since there were so many shops, restaurants and things to do within walking distance. Definitely plan on staying there again!"

– Kerry Johnson, Google Review
Very nice stay with stunning sea and beach views.
We will definitely go back!
Great location! The host was excellent and the check in was easy. The beds were super comfy and supportive. The place had all the amenities of home especially in the kitchen. This rental was amazing and I would definitely stay there again.
Amazing location. Great balcony. Very helpful and attentive host/maintenance team. If it's your first time up in Hampton, know that it is a pretty happening place on Friday nights through the weekend, especially if you keep the windows open. No complaints at all, though.
Everything we hoped for! Clean and courteous! If you're looking for a perfect place with no drama then this is the place for you! I could go on and on… I'd definitely go back!
Sean's place was just as described. Phenomenal location right across from the beach. Lots of local food, bars and music within a couple of hundred yards as well.
Sean had great communication and the house was cozy and clean. Would be happy to stay here again.
The location was unreal, it was as close as you could get to the beach!
Instructions were sent in advance and we were able to check in and get our trip started the second we parked. I will definitely be coming back & recommend this location to everyone!
The location was perfect! Right across the street from the beach, in the beginning of the boardwalk so it was quieter. The place was clean, plenty of pans, bowls and everything you needed to cook.
Location Location. Location. You will be mere steps from the beach, shops, restaurants, playground, arcade, etc. Park and leave it for your stay!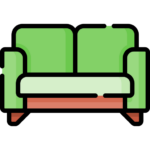 Our short-term rentals are furnished with the comforts of home. Equipped kitchen, bed linens, bath towels, TV, and High Speed WiFi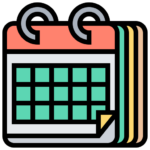 When you book directly there are no added surcharges that you get with the online sites. You will get the best possible rates by booking with our team directly.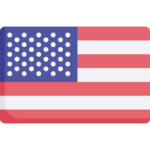 Perfectly located at the beginning of "the strip". Steps away from the beach, arcades, mini-golf, Seashell Stage, Casino Ballroom, children's playground, restaurants, bars, cafes, ice cream and more.
Book Your Stay With Us Today!